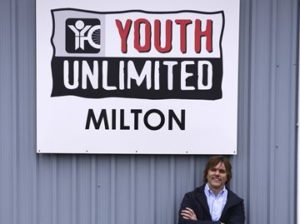 Mike Burns sees abundant potential in today's adolescents.
But he also sees they have a huge need for community services to help guide them through this "transformative" stage of life.
And that's where he enters the scene. As the recently appointed director of The Deck — a youth centre on Nipissing Road that also goes under the names Youth for Christ/Youth Unlimited — Burns is excited about the opportunities to come as he strives to make a difference in the lives of local youth.
"Teens are really struggling to find purpose and meaning in today's world. Many — if not all — of the pillars that used to hold up our youth and help them through the journey of adolescence have fallen away," he said. "It's essential that there are community services for youth to help them through this time of life."
The Milton resident brings 15 years of experience with teens to the table. He previously served as Southside Community Church's youth pastor, and prior to that he was a youth counsellor at the Safe Haven Youth Shelter in Kitchener/Waterloo, working with 12- to 15-year-olds. He was also responsible for creating a youth drug addiction awareness program in KW — a self-referral initiative that became an early intervention program.
"I'm passionate about working with youth because I think it's probably one of the most transformative times in their lives," he said. "They're moldable and pliable, and they're also a ton of fun."
As a satellite ministry of Southwestern Ontario Youth for Christ, The Deck is committed to helping youth in a holistic fashion — physically, mentally, emotionally, socially and spiritually. The youth centre has been in Milton for 11 years and at its current location since 2011.
The father of two said he enjoys speaking with youth from a faith-based perspective on finding meaning and purpose in life.
"I'm pretty passionate about intentional mentoring with young people. So many teens are coming from dysfunctional homes and struggling families. But when they began to understand there's more going on than what they can see — that there's a God who loves them and cares for them and cries for them and mourns with them — that tends to be an anchor point for them. It's a grounding point they need to build all the other pieces in their lives," he said.
He added, "To provide a drop-in centre, at the very minimum, we're creating a sense of community for them where they connect with other peers who care for them and adults who help guide them. Simply being here and having doors open is an amazing thing for teens that desperately need that community."
The Deck currently serves 25 to 30 teens on a weekly basis "from all walks of life," Burns said.
The facility runs a drop-in program on Mondays and Tuesdays from 3 to 6 p.m., Thursdays from 3 to 9 p.m. and Fridays from 3 to 10 p.m. Those who stop by can play pool or table hockey, work out in the weight room, chat with others and more.
The Deck also hosts special evenings and events, such as Supper and Soul Talk, which offers a meal for local youth and opportunity to hear a guest speaker on a variety of topics.
With new leadership comes fresh ideas, and Burns said he's envisioning a different direction for The Deck.
"It's a new day and we're excited to be revisiting who we are and what we do. We're looking to rebrand and re-envision what our services are in the community," he said. "I'd like to see us become a vital community leader regarding services for youth in Milton and beyond. We're also learning how to communicate better with the community so that people know we exist."
While the majority of the teens who walk through The Deck's doors don't have any faith or religious affiliation, Burns said they're generally open to learning more.
"There's a legitimate longing in the hearts of young people when they really begin to understand the Christian message — that God's love for them is completely unconditional," he said. "Teens are fairly street savvy; they are skeptical and they ask a lot of questions, but that's great. We love when teens ask questions. I think the best thing we can do here is share a little and listen a lot."
The Deck is located at 900 Nipissing Rd., beside Milton Baptist Church. For more information visitwww.yfcmilton.com, call 905-876-0368 or email info@yfcmilton.com.
Article: http://www.insidehalton.com/news-story/6504647-milton-youth-centre-welcomes-new-director/